10 Steps to a Home Office You'll Love
With working from a home office becoming more popular, we wanted to share with you a list of ways to make your home office a space you'll love.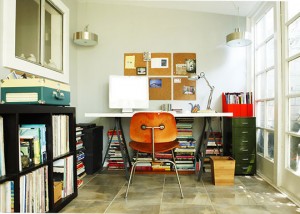 Here's the article from apartmenttherapy.com.
What makes a good home office? Is it the chair or desk? The photos and pieces you display? Or is it the technology and equipment that you use throughout the day? We say it's all of these things and more as we present our ten steps to making your home office a better place to be.
1. Don't get to techy.
2. Choose comfy but attractive furniture.
3. Hide away and organize your cables and tech.
4. Make it personal.
5. Let there be light!
6. Bring in the greenery.
7. Get comfy under your feet.
8. Let the tunes roll!
9. Let the pets in!
10. Who's the boss? You're the boss!
See the full article and detailed steps here>>