Contract Magazine 2016 Designer of the Year: Todd Heiser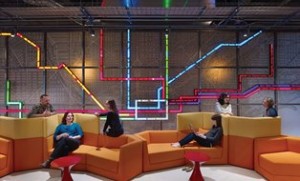 The Designer of the Year honor is most often awarded to those who have already accomplished great work but are on a trajectory to do much more. It is a recognition of excellence in design and leadership within a firm and the profession; someone who is having a notable impact. Creative, eclectic, visionary, and thoughtful, Todd Heiser, IIDA, of Gensler transforms commercial interiors and is at the forefront of reshaping design practice. A design principal based in Chicago, and a firmwide leader of the firm's consumer products practice, Heiser is the 37th Designer of the Year, and the   first ever from Gensler to receive the distinction.
We, at Lehner Designs, find this project of Todd's inspiring because it reminds of what Motorola's does. It manages our data – what we access on our devices and mirrors the pop-culture image of what we all think the digital world of logistics looks like. In addition, this concept is delivered in a modern technical aesthetic as seen in the top picture and in a less refined rustic aesthetic as seen in the bottom picture. It also reminds us that "The Internet is a series of tubes", a perspective Sen. Ted Stevens infamously explained to us years ago.
To read the rest of the article about Todd Heiser and his inspiring work, click here! To read more about Sen. Stevens perspective, click here!