Microsoft India: Designed to Work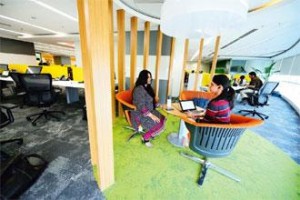 Meeting rooms, breakout zones, refreshment hubs and quiet areas—the new Microsoft office in Gurgaon tries to be everything an employee could want. The new workspace, built along Microsoft's global Workplace Advantage Program guidelines, is kitted out with 60 meeting rooms of varying sizes and specifications, from telephone rooms for one-on-one conversations, focus rooms that can accommodate four-six people at a time, to meeting rooms for larger consultations. For all-hands meetings, the retractable walls in the cafeteria can be pushed out to merge with the reception area and create a large hall. "Spontaneous collaboration, brainstorming and teamwork are key tenets of the new office," says Thakur.
To read the entire article Click Here!