Mark Zeff Riffs on Austin's Musical Heritage at the Hotel Van Zandt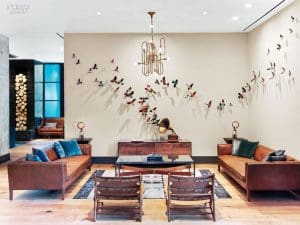 The title is a bit mysterious isn't it? You may be asking yourself…What is Mark Zeff Riffs? Is that a person, place, or maybe a noun or action?  And what is Hotel Van Zandt?  I know I was. However, the first paragraph of the article brought up another question…who is Townes Van Zandt? After some additional research I realized Townes Van Zandt was a singer songwriter that may have been troubled, but was obviously talented and influential. Influential enough to be the inspiration for this magnificent hotel in Austin Texas.
As the self-proclaimed Live Music Capital of the World, the booming intersection of hipsters and honky-tonks, techies and tequila, Austin had obvious attractions for the Kimpton Hotel & Restaurant Group, a company that prides itself on letting local ethos drive a design.
Zeff looked to the Austin music scene to lay down the baseline for the hotel. His homage plays out in the lobby lounge with an installation of exuberant birds, made from vinyl records, that flutter out of an old phonograph and, elsewhere, as curated collections of found objects such as vintage radios and microphones. The gig posters in the 319 guest rooms reflect the Austin club scene in the '60's and '70's, when Van Zandt made his name. His final album, No Deeper Blue, symbolically thrums through the color palette as a moody teal. Riffs on blue are found everywhere from the lounge's tufted velvet-covered sofas and chairs to the guest rooms, where the wall covering evokes dreamy watercolor brushstrokes.
Click here to read the rest of the article!