Tuohy Furniture Corporation: WorkStyles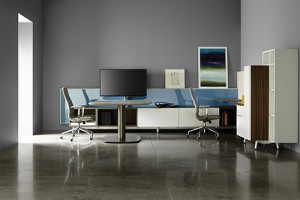 Conceived by the design consortium of David Fuehrer, Ehren Gaag, Jay Koback, and Robert Mariduena for Minnesota-based manufacturer Tuohy Furniture Corporation, the WorkStyles collection of office furnishings was named Best of Competition in the 2015 Best of NeoCon® awards. The collection also received Gold Awards in both the Case Goods and Furniture Systems categories, a Silver Award in the Furniture Collections for Collaboration category, and an Innovation Award in the Tables: Occasional category.
WorkStyles offers an alternative to the typical private office by creating spaces for both individual work and collaboration. Instead of a monolithic look for the entire collection, WorkStyles offers a variety of elements that can serve as a centerpiece within both private offices and open plan areas.
To continue learning about WorkStyles- Click Here!