Testimonial: Duane Reindl
3.3.2001–
We are currently working with the Bennett and Reindl Co. to help design a new space for the Marion County Assessor's Office.  The new office will be located on the north side of Indianapolis.
"My company has utilized Lehner Design's services for several projects over the past eight years and we have always found that Gerard and Lehner Designs provide us with exceptional value.  Lehner Designs has provided a variety of services for us at several properties including everything from space planning on small office remodels, to providing as-built plans for an office building with BOMA space calculations, to full construction plans and finish selections for tenant spaces."
"Our most recent project with Lehner Designs involved designing space for the Marion County Assessor in one of our office buildings.  Early in the process, Gerard met with the client to determine the programming needs for the tenant and assess their needs.  Given a tight budget for the project, Gerard was able to design a space plan that maximized use of the existing floor plan, while still meeting all of the programming needs for the client.  This provided for a minimal buildout cost which was instrumental in meeting the budget needs of both the landlord and tenant and making the deal work for everyone."
"We will continue to utilize Lehner Designs for our developments and we can confidently recommend them for all of your architectural needs."
Duane Reindl, Principal, Bennett & Reindl Co.
Bennett & Reindl Companies
19 Shelter Cove Lane, Suite 300
Hilton Head Island, South Carolina 29928
Office:  843.689.6189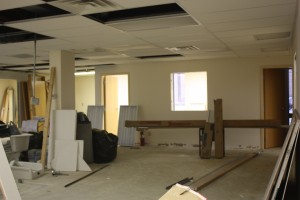 Marion County Assessor's Office Progress Shot