As we get closer to the end of 2020, we thought we share some of our favorite products that have been introduced recently.  We have been forced to focus some much this year on products that help combat germs, are easily cleanable and help to maintain safe distances in public spaces.  So, this post is more personal, more of what we like, just because.  Some of these products may have been created to help keep us healthy, but that's not why we are choosing to highlight them.  We want you to think of this like an edition of 'Oprah's Favorite Things'.
So without further adieu….. Here are some of our favorites.
Kinetex by EF Contract Flooring is an advanced textile composite flooring that combines key attributes of soft-surface floor covering with the long-wearing performance characteristics of hard-surface flooring.  Kinetex flooring products can be used in corporate, retail, healthcare, education and institutional environments.
Brushed Lines LVT by Interface evokes the familiar qualities of hard surfaces with a light-capturing quality that sparkles on the floor.  Its subtle design delivers modern refinement inspired by raw and natural motifs.  Pair Brushed Lines LVT with Interface carpet tiles for an integrated flooring system of hard and soft in planks and squares.  Interface modular floors allow you to move from surface to surface without the need for transition strips.
The David Edward Collection by Kimball delivers upon our ethos that timeless design enhances both workplace and public environments.  Kimball collaborated with internationally acclaimed designers to create signature products that effortlessly unite form and expression.  This enduring aesthetic elevates the experience from the expected to the exquisite.  Some of our favorites from this line are the Anora and Thatcher, which are both pictured.
The Ascent Series from Green Furniture Concept is a modular beam seating system with a lot of freedom and flexibility. The modules are easy to assemble and reconfigure. The straight, convex and concave shapes can be used to create seamless seating to fit the unique structure of any room and utilize the space.
The Quantum Collection, from Mayer Fabrics, featuring Gravity, Relativity, Static, Matter, Molecule and Vector.  Patterns Gravity, Relativity and Static are innovative performance constructions called "fused hybrids" in which a woven textile is chemically bonded with durable TPE (thermoplastic elastomer) using a new technology called Tekloom.  Patterns Matter, Molecule and Vector are polycarbonate-based, polyurethane-coated fabrics with distinctive emboss and print features. An ultrasonic embossed technique (Molecule) and the use of a layered polyurethane (Vector) make these fabrics technically and aesthetically unique. All fabrics from the Quantum Collection are Graffiti-free, bleach cleanable, and impermeable to liquids.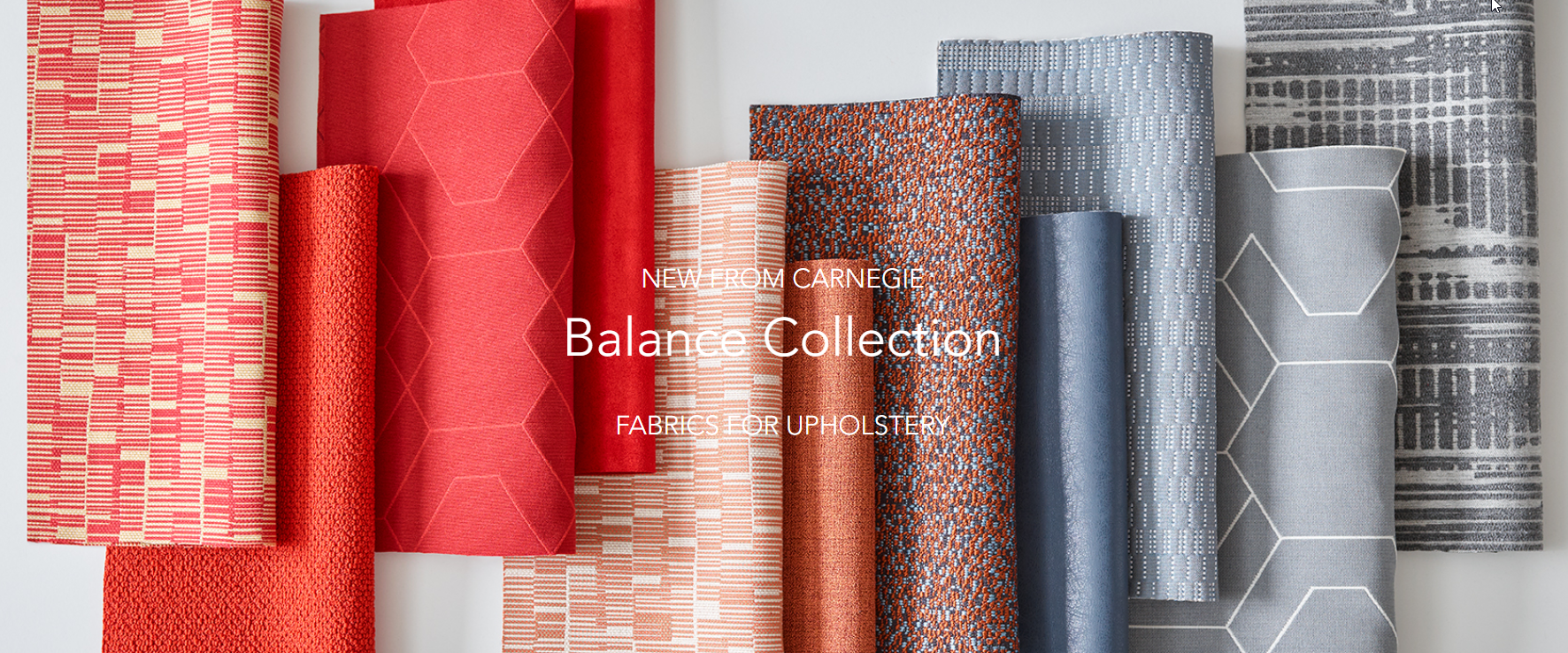 One of the newest upholstery collections from Carnegie Fabrics, Balance, blends craft and innovation to deliver high performance solutions over multiple end-uses to meet today's challenges.  Now more than ever, the performance of materials surfaces are under scrutiny. Rigorous cleaning, disinfecting and maintenance protocols apply to all interior environments. Materiality makes our surroundings rich, appealing to our senses, and textile surfaces are part of this dialogue. Carnegie's five new statement patterns emphasize their commitment to performance and cleanability while showcasing our attention to beautiful design. They are all suitable for any environment that requires a little extra durability while managing to look right at home.
The Geometry Collection from Stacked Wood Walls, offers alluring patterns and angles that draw you into this collection.  It's unlike anything else you have seen from Stacked Wood. Offering a soothing and calm monotone color palette which allows the pattern to shine and showcase the most beautiful characteristics of wood.
Experience the exceptional acoustic performance of BuzziPleat, by BuzziSpace, delivered by its architectural folds. The large-scale, yet lightweight sculptural forms can be suspended from the ceiling or wall-mounted.  Despite its small footprint, the architectural folds maximize surface area, delivering excellent acoustic performance. The folds trap mid and low tones and help keep sound waves from bouncing back and forth on hard surfaces. Combine different suspension heights to prevent sound traveling in large space with high ceilings.