The Problem

        
In today's commercial world, approximately seventy percent of US companies have implemented an open office layout in their workspaces (Ogden, 2019). Open offices were installed in workplaces as a reaction against spaces that lacked interaction among employees due to companies placing the majority of workers inside private rooms. By introducing a fully exposed layout, the hope was to increase informal conversations and to help teams collaborate more effectively. However, recent research has shown open offices greatly decrease productivity in the workplace due to noise issues and visual distractions. In order to maximize interaction and efficiency, designers have strived to solve these issues by creating intimate, flexible, and varied spaces inside of open offices. At NeoCon 2019, these innovations demanded recognition in many of the commercial furniture manufacturers' showrooms, such as OFS, Steelcase, and Stylex. 
The Solutions
LeanTo by OFS
OFS's LeanTo was designed alongside Webb Associates to provide employees with a more intimate, quiet escape from the hustle and bustle of the office. Designed to replicate the feeling of nooks and alcoves, LeanTo uses fabric and soft cushions to create a warm, inviting space for small groups or individuals to retreat to. The material used on the interior of this product provides acoustic absorption for ease of conversation and focus.  For the use of workers, power strips and small work tables have also been incorporated into these seating arrangements. These features used in conjunction with each other create a productive, comfortable solution to the problems presented by an open layout. To meet LeanTo, follow this link.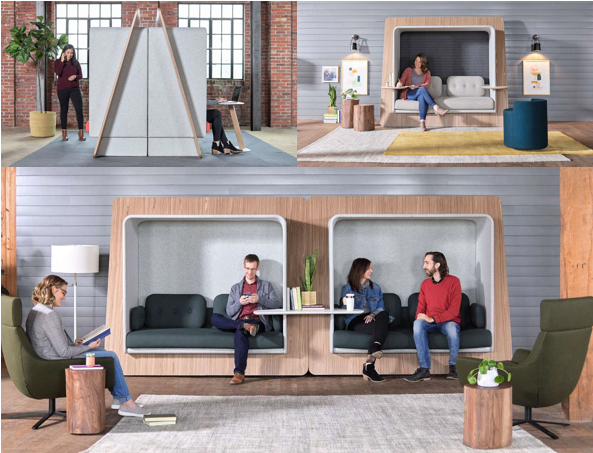 Free Address by Stylex
Developed by two of Gensler's product designers, Stylex introduced Free Address, a new seating system for commercial interiors. With the objective to create a solution to open office environments, Free Address combines surfaces, seating options, storage, and privacy into a single system. Similar to building blocks, each part of this product is modular and able to be easily integrated into the arrangement/ Along with providing many options for users, this system greatly reduces costs and challenges during installation and reconfiguration. To provide all types of users with a comfortable, productive seating option, the arrangements come in many different forms, such as standing-height or sitting desks and group work areas or private tables.  By providing these options, Free Address allows the client to build appropriate settings for the culture and budget of their office. Head to Stylex's website to learn more about Free Address and other products.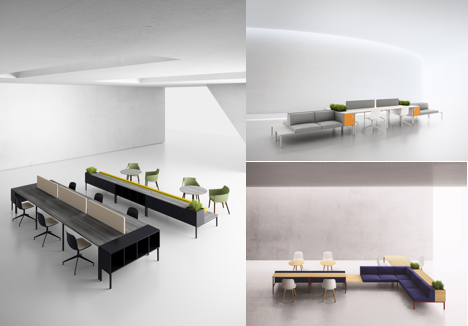 Flex Collection by Steelcase
Lastly, Steelcase has recently released a collection of furniture and accessories that is designed to meet the needs of the changing environment of modern offices and the people who work within them. The Steelcase Flex collection creates a solution for today's collaborative teams that allows their workstations to evolve with them as they work. Including moveable desks, tables, marker boards, and screens, the Flex collection is easily reconfigured to adjust boundaries and work areas to provide the desired amount of privacy and space for team and individual needs. Along with modular arrangements, this furniture collection offers many material options to fit team and office cultures. Check out the Steelcase's collection here!
To learn more about the changing culture of office environments, take a look at the resources I have linked below. While you're researching, head to our website to learn more about our office! Again, thanks for reading! We hope you have a great week!
Additional Resources
https://www.workfront.com/blog/what-science-says-about-open-offices
https://www.hermanmiller.com/research/categories/case-studies/harrys/
https://www.hermanmiller.com/research/categories/white-papers/turn-your-open-office-into-a-productive-office/