NeoCon 2019 Material Showcase
THE FOCUS
Part 1 of our NeoCon Product Review focused on office furniture and how these new and innovative products could be applied as solutions to the open office environment. Open offices invite collaboration, but also pose problems with excessive noise and lack of defined boundaries within an organization.  However, like office furniture, materials can be utilized to help solve these issues by absorbing sound and defining spaces. Below are products from three manufacturers that not only do this, but will also elevate a space aesthetically.
THE PRODUCTS
FLOORING: CHANGE AGENT COLLECTION by MILLIKEN
Change Agent is an integrated modular carpet and LVT collection introduced at NeoCon this year which was so well received it won Contract Magazine's Silver Award and was an Interior Design Magazine HIP Honoree. Designed to be used interchangeably and without transition strips the possibilities are endless with it's 2 modular carpet and 3 LVT patterns across 30 colorways described below. 
The collections 3 LVT plank patterns are; Relic, an aged stone pattern with 12 colorways; Rootwork, a classic wood pattern with 9 colorways and Conjure, a petrified wood pattern with 7 colorways. The 2 carpet patterns are; Brushed Metal, an undefined linear pattern with a brushed ikat effect and Magnetic Field, a multi-directional pattern with coarse layers that create undefined depth. Each pattern comes in 2 different sizes among the same 16 colorways.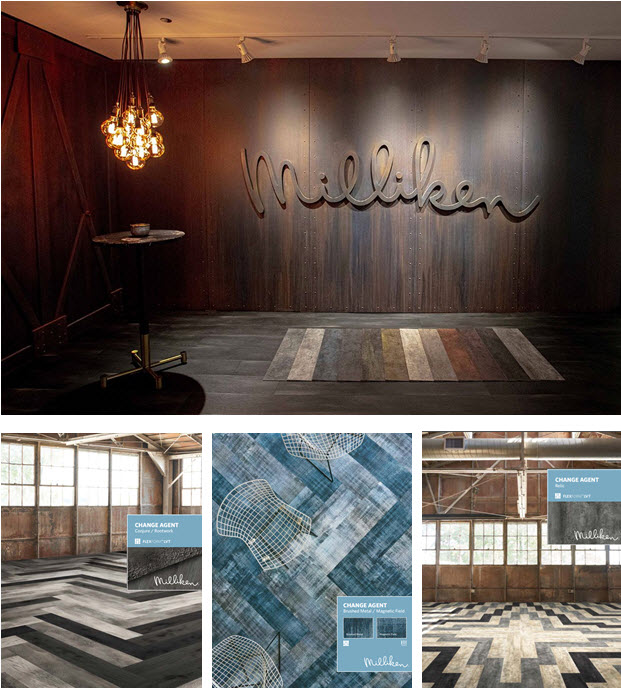 We chose to feature this collection because it was so vast and offered so many design options. It's sort of like an interesting and intriguing family you want to know more about. To understand the characteristics of each pattern imagine their roles would be as follows…
Rootwork

would be the sophisticated sister of the group with a creamy wood texture and slight gradation flowing throughout each of the 12 soft classic colorways.

Conjure

would be the artisanal brother with a rebel edge expressed through the rich texture of charred textural accents among 7 smoky colorways.

Relic

would be the eldest with an interesting if not mysterious past evolving with contemporary relevance and an elegant depth marbled throughout 12 jewel-toned and rich neutral colorways.

Brushed Metal & Magnetic Field

would be the warm, nurturing aunts with cutting edge style introduced by patterns with alternating tones of color and undefined movement in 16 jewel-toned and neutral colorways, available in two sizes of course.
To learn more about Milliken and the Change Agent Collection, visit their website!
ACOUSTICS: WAFFLE LEAVES by LUXX BOX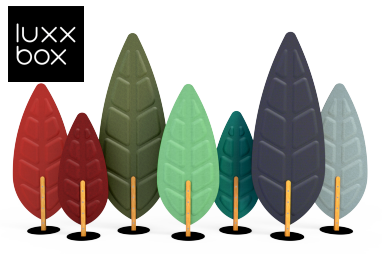 Luxx Box Waffle Leaves are a fun and unique acoustic solution from this innovative company. They come with a ton of options too allowing you to customize them in a number of ways. There are 3 size options available in over 50 colors and all can be specified as one or two sided panels. They can also be used as either freestanding structures or suspended vertically or horizontally from the ceiling. Another key feature is that they're made of 65% recycled material and are themselves 100% recyclable making them a very sustainable and environmentally conscience product.
Luxx Box is a manufacturer we were not familiar with, but these waffle leaves were such a fun product we wanted to learn more about them. They also offer acoustic lighting solutions we were excited to discover.
To learn more about Waffle Leaves and other Luxx Box acoustic solutions, check out their website!
TEXTILES: LOST AND FOUND COLLECTION by HBF TEXTILES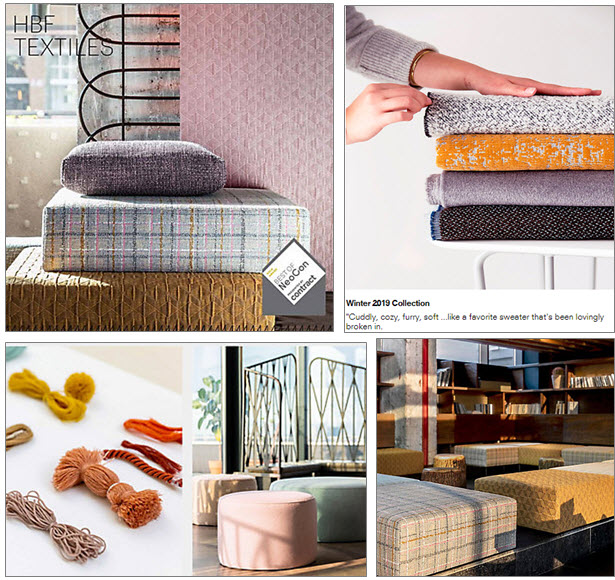 HBF debuted their Lost and Found Collection winning Contract Magazine's coveted Gold Award. Christiane Muller created this unique collection for HBF, which includes seven patterns with Modern colorways, rich textural weaves and lush yarns like chenille, boucle, and cashmere. These elements have been combined beautifully to create a sophisticated aesthetic of upbeat coziness with a craftsman look that will appeal to both masculine and feminine aesthetics.
To learn more about this collection and HBF Textiles check out their well-designed website!
To view the Lehner Designs Blog Page and learn more about us, visit our website or Contact Us!