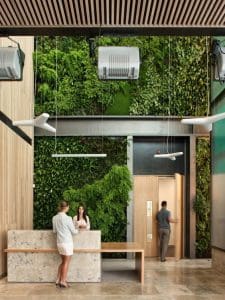 THE OFFICE EVOLUTION
Offices today are very different than they were 10 years ago, but what will they look like 10 years in the future? Dare we even imagine? CNN Style interviewed several experts including an architect, designer, innovator, and entrepreneur and all gave their hypotheses for the future of the workplace. As you may expect technology is the catalyst. It's changing the way we work drastically, and it is only going to change more.
Tanya Wood, the director of SoHo Works, states that new technologies are already resulting in a society that wants more choices, autonomy, and independence. Traditional office hours and structured desk systems are no longer the norm. Instead employees are able to create a more flexible and comfortable work environment. Lord Norman Foster, a well-known architect, confirmed that buildings will also continue to become greener. People will be even more concerned with sustainability and overall well-being, all while incorporating physical greenery into their space. Mikael Benfredj, the founder of Patchwork, says that we will be seeing much more of the co-working aspect to offices as well. His observation is that offices have become more of a meeting space for the project team, rather than places to actually get work done.
Overall, offices in the future are going to be much more focused on one's performance and well-being. To see more of what others had to say, click here: http://edition.cnn.com/style/article/what-will-the-office-look-like-in-10-years/index.html